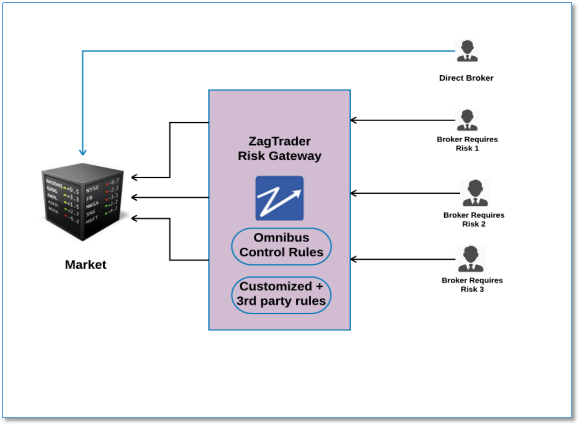 ZagTrader real-time risk gateway for exchanges and large service providers verifies the limits set for traders based on omnibus control rules. The ZagTrader Real Time Risk Gateway provides controls to meet the risk parameters set by the risk managers. This product also provides risk managers a full view of the trading activity for all the traders within the firm all done in real-time. ZagTrader Real Time Risk Gateway will guarantee managing risk for traders and the entire firm with ease.
The gateway is the bridge between the financial community and the exchange and must keep up the pace with the fast evolving changes and the trading needs of the financial community. ZagTrader Real Time Risk Gateway is a complex application that performs many functions and risk checks to ensure these rules are met.
The system can analyze all orders and will take into consideration all customized rules and any 3rd party rules including coding your rules into the gateway
Advantages
Real time market data information
Easy to use screens
Low cost of ownership
Reporting
Easily Integrated
High scalability
Conveniently hosted at your side or over the Zag Cloud.
Rules can be fundamental based or price feed oriented
Target Audience
Asset management offices
Prime brokerage
Treasuries
Buy sides
Private banking
Testimonials
"ZagTrader Real Time Risk Gateway solution is a comprehensive easy to use system with excellent reporting functionalities."
- Mohammad Gazali – Head of IT Menacorp
"We have been using the system for the past 5 years and found it to be ideal for our requirements. We found it to be simple to use, flexible to change and improve and extremely great value for money."
- Mohammad Hawamdeh – CEO Economics Today