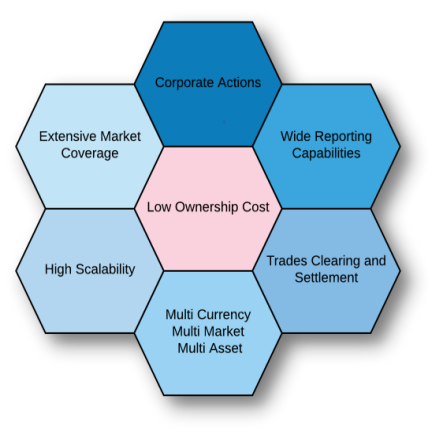 ZagTrader Custody Management System is an integrated portfolio accounting investment management system covering (order management), trade execution, clearing, settlement and safekeeping functions.
It supports local and international investment activities, enabling firms to process, clear and settle securities trading in multiple currencies and post transactions on a real-time basis
ZagTrader Custody Management System is a next-generation global and regional securities servicing product that supports Custody & Corporate Action related business in every environment. It provides an automated solution for securities settlement, custody management, and regional & global corporate actions
Key Functionalities
Trades Clearing and Settlement
Corporate Actions
Custody Management
Book Keeping
Charges and Billing
Full Reports
Conveniently hosted at your side or over the Zag Cloud.
Advantages
Real-time Transaction processing with complete audit trail.
Reduce the time and errors
Easy for users to manage
High scalability
Automatic Notifications
Multi-currency, multi market and multi asset
Easily integrated
Increase your market coverage
Improved productivity
Low cost of ownership
Key Benefits
ZagTrader Custody Management System creates a true environment for a smooth processing from trade to settlement. ZagTrader Custody Management System solution enables banks and financial institutions to benefit from a simple, affordable, reliable and effective technology platform.
Higher Efficiency: Enabling straight through processing of trade and settlement in real time and seamless automation of corporate actions processing.
Extensive Market Coverage: Increase the coverage by processing a wide range of financial instruments.
Improve Operation: Seamless integration with comprehensive functionality and flexibility.
Better Risk Management: Rule driven solution for a flexible and easy to use platform. Complete enterprise wide view of information with a comprehensive audit trail features.
Easily Integrated: Well defined, easy-to-use published APIs for an easy and secure integration.
Improved Productivity. Minimized manual intervention, would eliminate redundant activities, improve productivity & operational efficiency, and reduce risk.
Low ownership cost: Best in business features and a top notch platform easy to use and flexible for any integration with external systems. Robust and scalable to make your business grow.
Technical Features
Built with extensive security features, tighter monitoring, and control.
Open architecture allowing it to integrate with other systems.
Multi-depositary, multi-instrument support.
Parameterised audit trail.